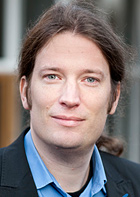 Christian Igel
Professor, Dr. habil.
| | | |
| --- | --- | --- |
| Office address: | | Mail address: |
| Department of Computer Science | | Department of Computer Science |
| University of Copenhagen | | University of Copenhagen |
| Universitetsparken 1, room 1.2.20 | | Universitetsparken 5 |
| 2100 København Ø | | 2100 København Ø |



Short CV
I am professor at DIKU, the Department of Computer Science at the University of Copenhagen. I studied Computer Science at the Technical University of Dortmund, Germany. In 2002, I received my Doctoral degree from the Faculty of Technology, Bielefeld University, Germany, and in 2010 my Habilitation degree from the Department of Electrical Engineering and Information Sciences, Ruhr-University Bochum, Germany. From 2003 to 2010, I was a Juniorprofessor for Optimization of Adaptive Systems at the Institut für Neuroinformatik, Ruhr-University Bochum. In October 2010, I was appointed professor with special duties in machine learning at DIKU. Since December 2014 I am a full professor at DIKU.
Among others, I serve as an Editor of the German Journal on Artificial Intelligence (KI) and an Associate Editor of the Evolutionary Computation Journal (ECJ) and the Artificial Intelligence Journal (AIJ).
I am director of the
SCIENCE AI Centre
.
Research Interests
My main research area is Machine Learning.
Currently, I am particularly interested in
support vector machines and other kernel-based methods,
evolution strategies for single- and multi-objective optimization and reinforcement learning,
PAC-Bayesian analysis of ensemble methods,
deep neural networks and stochastic neural networks,
and applications of these methods.
Selected Publications
Please click
here
for a
full list
. I also maintain a
Google scholar profile
.
Jan Kremer, Fei Sha, and Christian Igel.
Robust Active Label Correction
.
International Conference on Artificial Intelligence and Statistics (AISTATS), Proceedings of Machine Learning Research
84
, 2018
Niklas Thiemann, Christian Igel, Olivier Wintenberger, and Yevgeny Seldin.
A Strongly Quasiconvex PAC-Bayesian Bound
. In S. Hanneke and L. Reyzin, eds.:
Algorithmic Learning Theory (ALT), Proceedings of Machine Learning Research
76
, pp. 466-492, 2017
Asja Fischer and Christian Igel. Bounding the Bias of Contrastive Divergence Learning. Neural Computation 23, pp. 664-673, 2011
Tobias Glasmachers and Christian Igel. Maximum Likelihood Model Selection for 1-Norm Soft Margin SVMs with Multiple Parameters.
IEEE Transactions on Pattern Analysis and Machine Intelligence
32
(8), pp. 1522-1528, 2010
source code